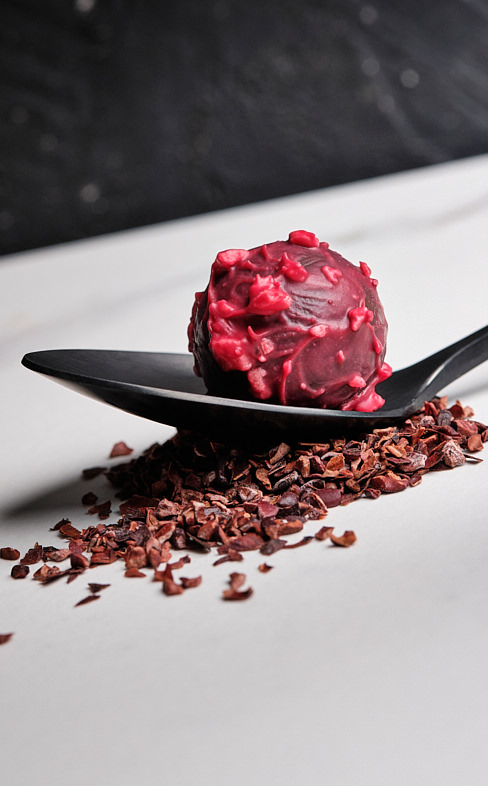 Pralines at a glance
Amarena Truffle
A fine truffle with Arriba cocoa
Which dress does the Amarena cherry wear best? One of chocolate, of course! This cheeky little fruit has - clever as it is - covered itself with seductive Arriba cocoa to protect itself from overly languid glances and to keep its secret till the moment a brave connoisseur dares to take a bite. The reward is an unforgettable firework of velvety-sweet fruit and delicately melting chocolate with a long-lasting finish.
Content 11 g
Item No. 20502
couverture white cocoa 28 % minimum
(sugar, cocoa butter,
whole milk powder
, natural vanilla aroma, emulsifier:
soy lecithin
),
fruit couverture raspberry
(sugar, cocoa butter 35,9 %, raspberry powder 11,5 %, emulsifier:
soy lecithin
,
milk
),
cream
, Variegato Amarena (glucose syrup, sugar, sour cherry juice, starch, natural colorant carmine), glucose, dark chocolate cocoa 65 % minimum (cocoa mass, sugar, cocoa butter, bourbon vanilla extract),
butter
, lemon juice, crispy sugar
*certified organic
Milk, Soy (Legumes)
Not suitable for allergy sufferers.
Nutrition facts per 100 g (average)
Calories 428.2 kcal / 1,792.8 kJ
Fat

29.5 g

Saturated fatty acids

15.6 g

Monounsaturated fatty acids

3.2 g

Polyunsaturated fatty acids

0.3 g

Carbohydrates

39.4 g

Protein

2.1 g

Salt

1.1 g