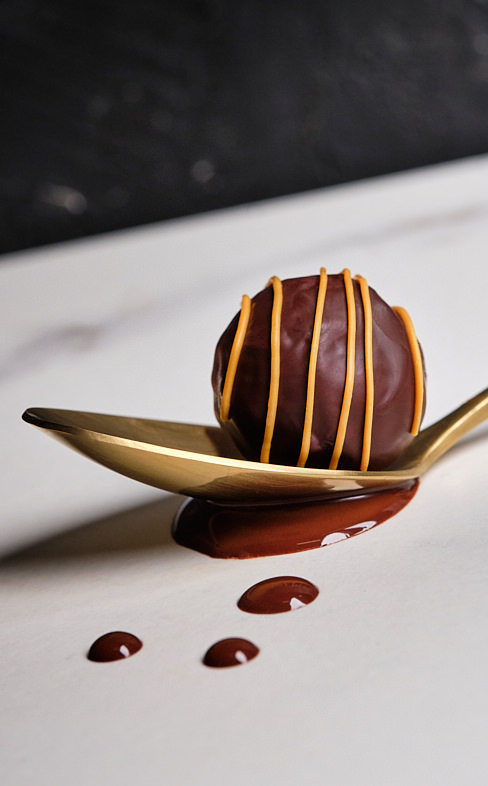 Pralines at a glance
Cointreau Truffle
refined with Cointreau
The famous French Triple-Sec Cointreau is a truly international delight. Not only is it an indispensable part of some well-known cocktails in respectable bars from Cape Town to Oslo, from London to Shanghai, but it is created from fragrant and flavorful oranges growing on both sides of the Atlantic in Spain and in Haiti. Our Cointreau praline combines the unique flavor of this classic liqueur with a strong Arriba chocolate from Ecuador, the ideal partner for the aroma of bittersweet oranges.
dark chocolate cocoa 65 % minimum (cocoa mass, sugar, cocoa butter, bourbon vanilla extract),
cream
, glucose,
butter
,
couverture white cocoa 28 % minimum
(sugar, cocoa butter,
whole milk powder
, natural vanilla aroma, emulsifier:
soy lecithin
), orange peel, natural colour concentrates , natural colour concentrates
*certified organic
Milk, Soy (Legumes)
Not suitable for allergy sufferers.
Nutrition facts per 100 g (average)
Calories 457.6 kcal / 1,915.8 kJ
Fat

35.5 g

Saturated fatty acids

15.9 g

Monounsaturated fatty acids

5.3 g

Polyunsaturated fatty acids

0.8 g

Carbohydrates

29.1 g

Protein

2.7 g

Salt

1.1 g